Why You Need To Take Your Jewellery Business Online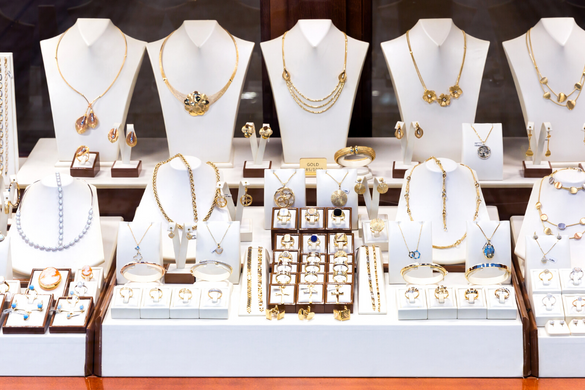 Today, India's e-commerce sector is attracting a steady stream of venture capital and investor funds. One of the hottest news in the gems and jewellery circuit is the fact that Ratan Tata has recently made a sizable personal investment in Bluestone, the 3-year young Indian e-commerce jewellery company.
Too many players from India's jewellery sector have so far been hesitant to take their products online. Statistics show that 80% of people who are online, have carried out an e-commerce transaction at least once. While it's true that there are indeed some very real challenges like India's strong cash-transaction-centric market, high returns statistics for online shopping and the consequent losses that go with free shipping, the inability for the customer to get the touch-and-feel of the products online, etc, these factors can be worked around. Every statistic in the book seems to say that it is indeed time for India's jewellery retailers to take the plunge.
The following are just a few reasons why you need to take your jewellery business online:
Your target audience spends a lot of time online: We don't suggest that you trade in your brick-and-mortar store for an online one completely. Starting an e-commerce business from scratch would be another issue altogether. However, statistics show that consumers do a significant amount of pre-purchase research online, across all product categories. Even if you decide not to sell online at all – at the very least, you do need a strong online presence. You need to have a website where you offer information about your company and its products, and preferably also have points of engagement on various social media platforms like Facebook.
Cost of operations for online stores is very negligible: Studies suggest that for about 80% of online shoppers, price is the number-one purchase consideration. The thing that's great about operating an online business is it levels the playing field -- The cost of operations are so low that the smallest of players have the chance to compete with the largest of them. Moreover, with netizens constantly scouring for the best prices, the relatively low costs of an online store means you can pass on price advantages to your customers.
You can sell anywhere, anytime: Another great positive about the Internet is that your business can run 24/7, at the convenience of your potential customers. They will be able to access your store from anywhere in the world, and at any time.
A world of online marketing tools will open up to you: Once you establish a presence online, there's a plethora of marketing activities you can undertake.Social media marketing, search engine marketing, e-mail marketing, submissions on articles-marketing portals, participating in industry-specific forums, are some very valuable avenues that will open up to you.
How you can overcome a few issues that might have been holding you back from selling online:
You can meet the customers' need for quality assurance, by highlighting details in black-and-white: Many retailers feel that the eye-to-eye meeting offers a greater sense of security for customers when it comes to an assurance of quality of stones and metal. This however, can be easily overcome and worked to your advantage even, in the online space. After all, with the Internet, everything will be recorded in black-and-white for your customers. Give complete details of each product on your website. Net savvy people realise that the details can be easily saved by them, and they can hold you accountable to your promise. Offer them hallmarked and certified products.
You can overcome the look and feel issue with high-quality pictures and shots in several angles: There are many artwork companiesthat specialise in creating high-quality pictures of products like jewellery for websites. They can take care of the photography, or you can provide them with pictures, which they will enhance using Photoshop and other artwork programs, while staying true to the products for your customers. Such high-quality pictures tend to override customers' fears about not being able to touch and feel the products they buy online. Today, you can even have 3-dimentional or panorama images of your products on your website.
Consider not offering cash transactions to dissuade returns: Statistics show that 60% of online cash transactions result in returns. Many jewellery portals only allow credit card or debit card transactions. This would be a very sensible consideration. At least when it comes to high value purchases, disallowing cash transactions would prevent people who are not serious about making a purchase from ordering your products. For low value transactions, disallowing cash transactions may cause you to lose business from people who do not have credit cards, but can well afford small jewellery purchases. This decision requires careful consideration. Perhaps one solution would be to allow Demand Drafts. The great thing about online selling is that you can always make amendments to your policies, with fair warnings of the same issued to your customers.
Charge customers for shipping of returns, if you like: Jewellery logistics companies naturally charge a tidy sum for shipping because of the high-value of products and the risk they undertake in delivering them.One big and very valid concern that online retailers have is the losses they must incur on shipping, when faced with high numbers of product returns. One sure way of nullifying this issue is to charge customers for full shipping costs for returns cases, unless there is some quality issue with the product. Very few serious buyers would mind being charged for shipping of a returned product that costs a sizeable sum. This will likely immediately take care of people who might be trying to take advantage of you, like making a purchase with the intention of wearing a product once and then returning it, for example. And, in case such a thing happens, at least you will not be at a loss for it.
Have systems in place to prevent copying of designs: Today, it is possible to incorporate technology that prevents users from downloading or copying your designs onto their computers. They might however take a screenshot from their phones – but there's honestly not much that you can do about that.
It really is time for jewellery retailers to take up the function of "e-tailing", otherwise they will soon be losing business! Perhaps a comparison that can be drawn here is that of the promotional products space, which caters mainly to personalised corporate gifting needs.For decades, promotional products manufacturers would print and post product catalogues every year. The ones that hesitated to move towards digital catalogues when others were doing so have had to literally shut shop. In the case of jewellery, the products are much more expensive, and so the brick-and-mortar store is never likely to go completely out-of-fashion, but, products need to be where consumers are at the initial point of contact. Even if they intend to make the final purchase at a store, more and more customers are looking for products online before they venture into stores. So, even if you do not want to sell through e-commerce at this stage, you definitely need to showcase your products as well as build an image for your brand and company on the worldwide web. And, today, that's an absolute "given"!