Transformable Jewellery: Pieces That Can Be Worn in Different Ways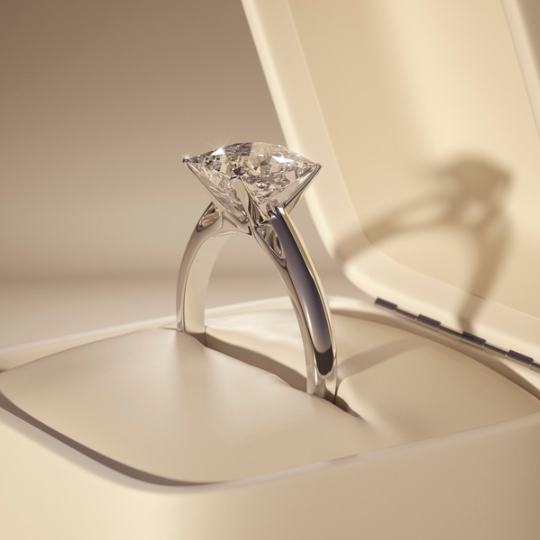 Transformable jewellery has been around since as early as the turn of the 20th century, when tiaras were dismantled and worn as necklaces by royalty. No more is versatile jewellery the sole prerogative of royalty. The versatility of transformable jewellery today is enough to boggle the mind – The possibilities are truly endless!
The likes of Harry Winston, Boucheron, Bulgari, Cartier, Chanel, Chaumet, Van Cleef & Arpels, Nirav Modi have all been known to showcase one-of-a-kind pieces that can be broken down into different components.
Making jewellery that can be worn in different ways needs a good amount of design and architectural genius – The more ways the piece can be worn, the more complicated its making would be. The trick is to come up with ingenious ways to ensure that the secret of the piece's versatility is well-hidden from onlookers.
Let's take a look at just a few of the concepts that fine jewellery houses have put forth through the years.
1)      Necklace-to-Necklace Transformers; Bracelet-to-Bracelet Transformers; Earring-to-Earring Transformers:
Harry Winston's 'Secret Combination Necklace' is a stunning example of a necklace that can be worn in different ways. The necklace with flowing diamond threads can be worn in seven different ways, and the large cuff for the wrist turns into two separate different sized bracelets.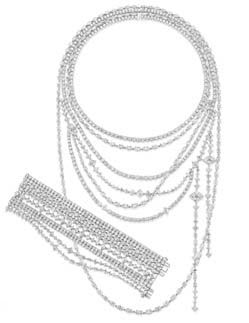 Harry Winston's Secret Combination Necklace
'Secret Cluster' Diamond Earrings by Harry Winston are transformable earrings set in platinum with a delicate ribbon of diamonds accenting a rich bouquet of round, pear, and marquise shaped stones, while a detachable pear-shaped diamond drop lends fresh versatility to the timeless design.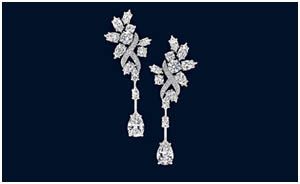 'Secret Cluster' Diamond Earrings by Harry Winston
British jeweller William & Son's new 'Beneath the Rose' collection includes a pair of earrings whose cascade of pink sapphire detaches from a simple diamond and pink sapphire teardrop stud for the ultimate night-to-day flexibility.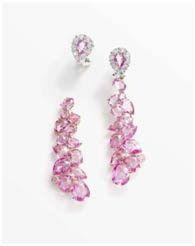 Pink Sapphire Earrings from William and Son's 'Beneath the Rose' collection
The idea behind transformation options within the same product type is to offer both a light and dressier look.
2)      Neckpiece-to-Bracelet; Bracelet-to-Ring Transformers:
One breathtaking example of a neckpiece that doubles up as wrist jewellery is the Nirav Modi 'Mughal Choker & Bracelet'.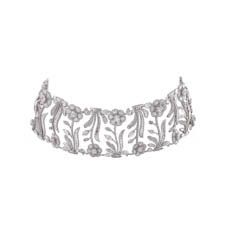 NIRAV MODI 'Mughal Choker & Bracelet'
Similarly, this transformable 'Daisy' ring by Gumuchian in 18ct rose gold set with pavé diamonds unfolds into a bracelet.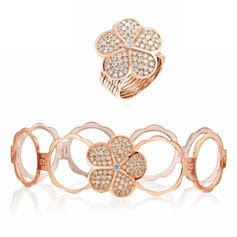 Daisy (Ring-cum-bracelet) by Gumuchian
3)      Reversible Jewellery:
Harry Winston is known for its reversible designs. In the 'Secret Wonder' line, for example, reversible pendants rotate to transform from a starburst motif in white diamond into a kaleidoscope of diamond, sapphire, and aquamarine.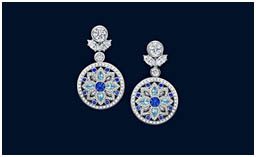 Secret Wonder Reversible Diamond, Sapphire and Aquamarine Earrings by Harry Winston
The line includes reversible rings and bracelets as well. The reversible jewellery concept offers the option of two design variations in one piece of jewellery.
4)      Jewellery with detachable parts that can be worn as pendants, hairpieces or brooches, or for colour versatility:
The House of Chanel recently paid homage to its founder in its new '1932 Collection', which just as one example includes the Étoile Filante — a sautoir, or extra-long necklace, formed by a cascade of chains with baguette-cut diamonds, held by a large diamond star that can be removed to be worn as a brooch.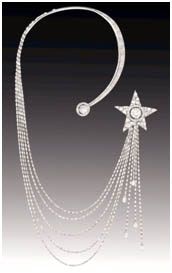 Étoile Filante, by the House of Chanel
The New York Party Jacket ring set by Jessica McCormack includes an emerald-cut diamond solitaire and a detachable white and yellow gold ""jacket"" with baguette-cut diamonds.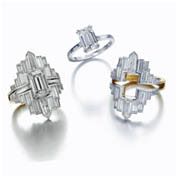 'New York Party Jacket ring' set by Jessica McCormack
Chaumet, in one tiara, has a removable five-carat pear-cut diamond that can be worn as a pendant. In another piece, an aigrette — a feather-themed hair ornament — set with a 40-carat cabochon-cut white Ethiopian opal, can be worn on top of a bandeau as the central piece or as a brooch or pendant.
In one of De Beers' popular jewellery lines 'Imaginary Nature', was included a necklace that has a detachable brooch that can be worn as a stand-alone piece.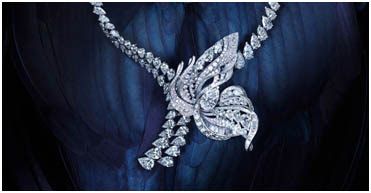 Be Beers 'Imaginary Nature' (Necklace-cum-Brooch)
Kiki McDonough has created a range of detachable drops to mix and match onto simple diamond pave hoops. These are a favourite of the Duchess of Cambridge.
5)      Dual Functionality or Secret Features:
One of the highlights of Baselworld 2015 was this ornate sapphire and diamond Graff brooch, with a cleverly concealed secret watch. The brooch can be worn in three different ways, including as part of a neckpiece. Embedded within the cascading tassels is a tiny pavé diamond watch face suspended from a platinum chain.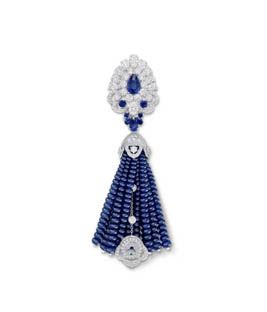 Speaking about transformable jewellery in his own jewellery line, Nirav Modi has been quoted by luxpresso.com in an interview to say, "Perhaps the most important factor people are looking at these days is the reusability of an ornament. Jewellery is no longer restricted to a single piece but has become rather multifunctional. Since the jewellery is very light, it gives the opportunity to the user to wear it in different ways. For example a necklace can be taken apart and reworked as two bracelets. Trends like these are catching up. So while you can wear a necklace to a more traditional or formal event, you can repeat the bracelets a lot more times and pair them with any outfit or accessory at any social event".
While creating transformable jewellery, it is very important to ensure a flawless look for all the multiple wearing options. The mechanics of the detachability should be hidden in all looks and the piece should be easy to transform from one look to another.
As far as consumers go, there's just no negative in providing a piece of jewellery that can be worn in different ways rather than the same piece in only one wearing-option. Transformable jewellery not only translates to more bang for one's buck, it offers exciting versatility.