Smart Jewellery – Where Jewellery Meets Technology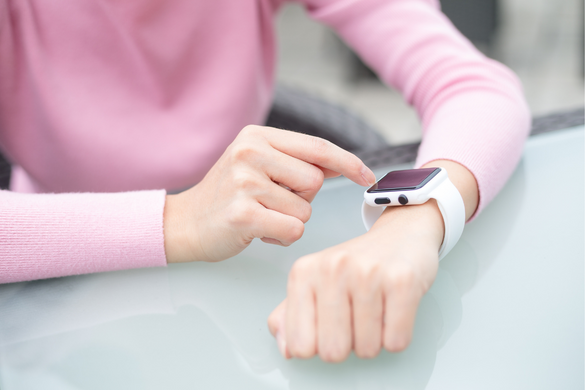 All of us have heard of smart phones and even smart watches more recently, but, what is smart jewellery? Well, smart jewellery integrates jewellery with technology, to give you a device that both looks good as well as adds some great value to your digital habits or even goes a step further in providing you safety and information about your health. Smart jewellery, as a technology category is taking off rapidly in the West. Usually, the way it works is the inventor of a specific technology in this category looks for jewellery manufacturers to join hands with. The category is also known as "wearable technology". We say – why not integrate smart jewellery into the mainstream jewellery sector?; What's wrong with jewellery manufacturers of even fine jewellery seeking to join hands with technology companies to develop and market more products in this new, exciting area? It's a category that's likely to yield a lot of returns looking towards the future, and there are rarely cases where first-movers' advantage did not play out well.
One thing jewellery manufacturers should remember is that technology-integrated or not, a lady would want her jewellery to look attractive. Technology companies are realising this – So, the time to jump into this new category is NOW!
Some smart jewellery trends doing the rounds:
1) Smart Jewellery that tells authorities when you are in trouble:
San Francisco-based company Sense6 Design has recently introduced a line of jewellery including slick-looking pendants and necklaces, which use low-energy Bluetooth technology synched to the wearer's cell phone. Its built-in technology allows users to contact authorities in the event of trouble. When the user is in trouble and triggers an alert, the alert goes to the company's security service while also simultaneously transmitting your GPS coordinates, and help is sent your way.
2) Smart Earrings that can monitor your pulse:
Canadian company BioSensive Technologies has created 'Ear-O-Smart' – what it calls "the world's smartest earring". What looks like a regular gold earring contains an array of sensors designed to monitor its wearer's pulse and movements for health and fitness signals. The sensors can be fitted to other earrings as well. It sends live data to phone apps using Bluetooth.
3) Personal Activity Tracker cum jewellery:
'Misfit Shine' is one such activity tracker. It can be worn as a pendant or be fitted into a wrist band – both have a unisex appeal. The bands are available in about ten different colours. The main activity tracker also comes in grey, black, topaz and champagne. It auto-detects and tracks your activity including walking, running, cycling, and swimming. It also tracks your sleep, for a complete picture of your health.
4) Jewellery that monitors your exposure to the sun:Marketed as a "personalised sun-protection coach", 'JUNE', by Netatmo, can be worn as a bracelet or a brooch. It measures the wearer's exposure to the sun though the day. The beautiful gizmo communicates with the wearer's smart-phone, sending real-time advice on how to protect her skin from the sun! JUNE suggests the most appropriate SPF cream, taking into account the current UV levels. It even reminds the wearer when to put a hat and sunglasses, and when to move into the shade! This is welcome advice for ladies concerned about how to protect their skin from overexposure to the sun and premature aging of the skin.
5) Rings that notify the wearer about phone messages, calls and emails:One such brand is 'Ringly'. The attractive looking rings notify the wearer about messages, calls and emails with customised notifications that can be set to vibration or different hues of light. Ringly's rings come in multiple coloured stone options.
6) A Bracelet that discreetly vibrates when its owner receives important phone calls, text messages and calendar alerts:
'Memi' is a chic iPhone compatible smart-bracelet. With our MEMI app, you can customise who "breaks through" to your bracelet. For example, the bracelet can vibrate for all calls or for select callers that are important – like a boss, babysitter, parents, or significant other. In addition, you can set notifications for calendar events so your MEMI can let you know when to wrap up a meeting or when to head to the next one. Settings can be easily changed at any time.
7) ARing that can be used to unlock doors, mobile phones, transfer information and link people:
Take your NFC enabled phone out of your pocket, slide your hand on the back and the NFC Ring can unlock it. It couldn't be easier. The NFC Ring comes with two special NFC tag inlays inside the ring, one for public information and one for more sensitive information. You can have an NFC enabled door lock installed for the front-door of your home and the NFC Ring can interact with it, acting as a key. The NFC Ring is water resistant and has been tested to a depth of 50m. What's more is that the NFC ring doesn't ever need charging!
Besides these, there are several other brands and even categories of smart-jewellery that have made their way through the market in the West and all over the world. There are even rings with RFID tags that serve as Charlie Cards for travelling on the bus in Boston and Massachusetts. Instead of tapping a bus card, you just tap your ring. It saves you the trouble of fishing in your bag for your card.
As far as smart jewellery goes, the possibilities are as endless as we have now all realised technology itself is. If you are in the business of manufacturing jewellery, why not consider this next big thing as an extension for your product-line?