Men's Jewellery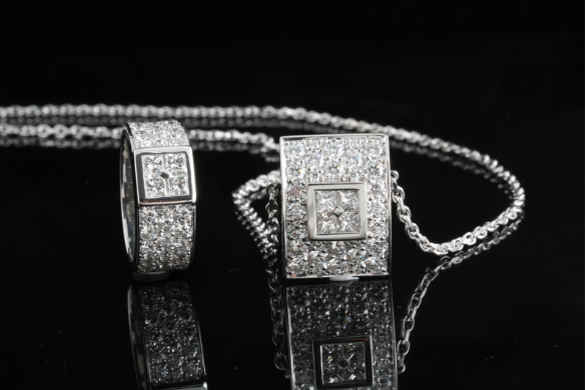 Men's jewellery has evolved from simple wedding bands and watch chains to elaborate ornaments for grooms and accessories like cufflinks and bejewelled tie pins for corporate wear. The article explores men's jewellery and its evolution to its present form.
Rough and Rugged
If there is one material that defines masculine, it has to be leather. From ancient times, leather has resonated with men as a choice material for everything from shoes, to bags, belts and now even jewellery. Leather cuffs with metal accents, braided leather cords, and fine leather in watch straps have made a great impression as men's accessories. It is not unusual for these to be embellished with diamonds, gold, silver, gemstones, beads, pearls, crystals etc. to create appeal and contrast. Gucci has braided leather bracelets with polished parts of a horse-bit while Hermes too offers a wide choice in expertly crafted leather bracelets for men.
Nailed it
Reclaimed materials like nails, horse shoes, horse bits, parts from saddles and recycled wood make for interesting choices as funky jewellery for men who want to make a statement. Large rustic barn nails are moulded as lethal looking bracelets; they may also be mounted over a wooden cuff or leather strap for added effect. Similarly items from horse equipment are used as centrepieces in jewellery. Woods like olive, rosewood, ebony; reclaimed woods and driftwood are moulded into distinct looking rings complemented at times with precious metals or gemstones.
Precious for Life
Indian grooms are no strangers to jewellery. Traditionally dressed grooms sport turbans - a symbol of royalty. This is usually decorated with either a kalgi - a gemstone-studded turban pin or its grander version- a sarpech that recreates the shape of a feather in gold and precious stones.
Bejewelled sherwani buttons - six large buttons for the front panel and six small ones for the sleeves - are a good choice as are brooches such as single pin brooches to elaborate paisley and animal brooches. Kalgis with pins are also a versatile choice; they can be converted into a brooch after the wedding.
And for the truly adventurous 'panchlara' or 'satlara' haars (five or seven strand pearl necklaces) make a royal statement. Ornate cufflinks and signet rings are good choices for grooms who choose to wear tuxedoes or suits
Corporate Choices
Corporate offices may not be very tolerant of jewellery in boardrooms per se, but there is always room for a little individuality in the form of signet rings, cufflinks or tiepins. Simple, studded or contoured versions of all these jewellery items are available with jewellers, online or could even be ordered bespoke at your family jewellers.
Hard Luck
Metals like tungsten, titanium and steel are also being widely used in men's jewellery. Tungsten and titanium alloys lend themselves easily to colour by adding different elements to the mix. Edward Mirell is a brand known for titanium jewellery particularly rings.
Similarly, steel's toughness, endurance and resistance to scratches and discolouration make it a top choice for rough and ready men's jewellery such as rings, bracelets and chains. Brands such as H. Samuel in the US stock a wide range of steel jewellery. Titanium and steel jewellery is particularly suited for those with allergies or sensitive skin; just make sure it is nickel-free.
Online stores such as Etsy and National Geographic-powered Novica are great places to find unique men's jewellery in all the different materials listed above.