Mass customisation, the Need of the Times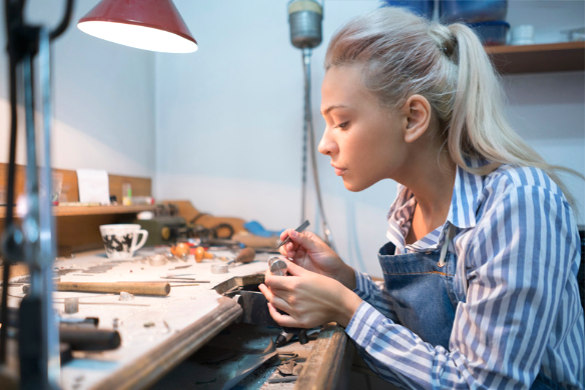 Eight billion people on the planet and all looking to make their mark. Unique jewellery that sets one apart from the rest is what will be a game changer in the future. Mass customisation may just be the answer to the question manufacturers and retailers are asking themselves; what next?
Jewellery manufacture and design is among the last bastions of the off-line world. Since jewellery is a physical product which is more physical than others such as apparel or accessories, most consumers have preferred brick and mortar stores when it comes to choosing and buying jewellery. However, jewellery buyers are looking to make a statement; they want a jewel that suits his/her personality, style, budget and values and this can only be done by customisation. This translates over and above what a mass-produced jewel would normally cost in a store. Enter; mass customisation.
Mass customisation allows jewellery buyers to customise their jewellery online for a fraction of the cost it would take at a traditional jewellery store. Technology like 3D printing even allows them to order a model and then suggest changes before the final piece is made.
Sydney-based start-up StyleRocks is one such online jewellery marketplace that uses 3D modelling and printing to sell customisable jewellery. Customers can buy a 3D model replica made of white polymer for around $30 before buying the final product. They can use the model to determine if the final product is right for them or if it needs alterations before being produced.
Globally, companies such as Diamond Heaven, Zoara, James Allen, Diamonds.com LLC, Design Your Wedding Rings and Limoges Jewelry all offer customizable bridal jewellery and engagement rings. Using sophisticated, easy to use design centres these companies allow users to choose gold colour, purity, diamonds/coloured gemstone centre-stones and accent stones along with designs and sizes. Players like GemKitty, Rockberries, and Gemvara offer trendy jewellery such as bead bracelets and gemstone necklaces along with their regular collections. Other companies with a presence in mass customisation include Personalized Boutique, Zales, and Mulberry Moon for budget-conscious shoppers.
The number of mass customisation websites has more than doubled in the last five years because of the simple of having something that is exactly right for you appeals to every consumer.
There will be challenges along the way of course. 3D printing still has quite a few limitations. Complex shapes are more difficult to achieve. Pre and post processing requires special efforts. These are required to maintain quality and this translates into manual labour. When compared to traditional retail methods, maintaining a physical inventory is mostly faster, procuring faster returns for the company. However, 3D printing has possibly got rid of the biggest deterrent when it comes to online jewellery purchase. 'The touch and feel' aspect of jewellery that was missing with online retail can now be provided with 3D printed mock-ups being delivered before the actual jewel is made. This is a big scoring point for online jewellery retail, and one which retailers will be quick to adopt.
In the future mass customisation will continue to grow in demand and savvy retailers would do well to start offering customisation wherever possible. With technological advances in 3D printing and lower pricing as it gains popularity, customisation should soon be an option for the majority of businesses and individuals offering products online.