Jewellery Organisers, Jewellery Boxes and Chests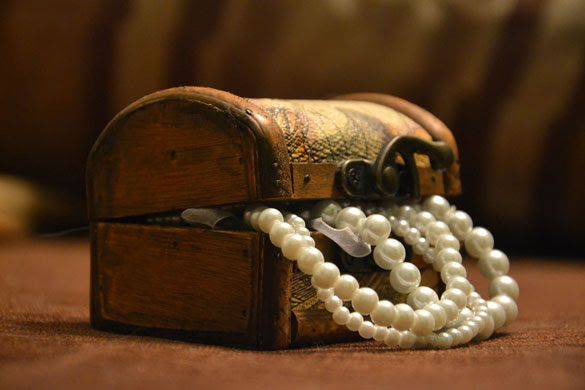 Women just love beautiful things! They absolutely adore their jewellery, and hardly want to put the pieces away after they have worn them. But, put away jewellery in a safe place – a woman must! And, so, women love to have attractive jewel boxes to organise their pieces – especially so the smaller pieces of jewellery that are not locked away in a bank vault. Keeping each piece of jewellery in its own box or compartment ensures that the jewellery does not get entangled, scratched or broken. Additionally, the jewellery is easy to locate.
Jewellery boxes can vary from the ordinary like ordinary plastic to the absolutely exquisite, like magnificent painted glasswork or woodwork. Some of the most popular materials for jewellery boxes include marble, celadon, leather and wood. http://jewelry-boxes.novica.com/ has one of the widest range of jewellery boxes that can be bought online.
So, let's look a quick look into the world of jewel boxes:
Wooden jewellery organisers / boxes: One of the more popular options for high-end jewellery boxes is wood. Today, designers and woodworkers like to use different options of exotic wood, and even make quite large pieces for jewellery storage. Some of these large pieces could fall within the category of "furniture" even. Other wood craftsmen create beautiful carved wooden boxes, or pieces with metal inlay work.
Mike Mikutowski is one well-known woodworker who makes exquisite jewellery boxes and chests. You can find his creations at: http://www.mikutowskiwoodworking.co
This 4-drawer jewellery chest design, for example, is available in various wood options. Mike even customises jewellery boxes with laser inscriptions for names and messages.
Another popular wood artist into jewellery boxes among other produce, is John Farrar.
John Farrar's jewellery boxes usually come with storage compartments, drawers and soft lining. His popular wall-hung cabinet allows for necklaces / chains to be conveniently hung up and thus stored in one place without getting entangled.
Bronze jewellery boxes:
Bronze jewellery boxes are also very popular, and some have absolutely exquisite designs. However, these are more for storing single pieces.
This Gothic form antique jewellery box in the form of a coffer in patinated bronze lined in velvet was found on http://richardgardnerantiques.co.uk It has 16 arcaded panels showing religious and secular scenes on all sides and the lid in a medieval idiom. It has strap hinges and a strap lock with key.
Stone jewellery boxes:
Carved marble or marble with inlay work is also very popular for jewellery boxes, and have been around since antiquity! However, these too are generally made for single pieces of jewellery.
Carved marble box by artist Raj Kumari
(Inlay box by Indian artist Imran Qureshi)
Marble boxes like these are most often from India. Care must however be taken that jewellery is not scratched. One must use tissue or felt to line the box before placing jewellery in stone boxes.
Besides marble, other stones like soapstone are also popular for making ornate boxes to hold single pieces of jewellery.
Leather jewellery organisers / boxes:
Leather is another material used to create exquisite hand-crafted jewellery boxes. Leather is often teamed with wood to create beautiful masterpieces.
Enveloped in richly tooled leather, this delightful jewelry box available on http://jewelry-boxes.novica.com/ (by Julio Sanchez) features a mirror in the lid. Its eight drawers help organise smaller pieces of jewellery, and the chest closes with a lock and key. It emulates the travelling chests used during colonial days in Peru.
In this box, also available on http://jewelry-boxes.novica.com/, intricate images from ancient Inca iconography come to life in hand tooled leather. They cover a handsome cedar jewellery box by Kelvin Maguiña. Compact in size, it opens to reveal a velvet lined tray, while three drawers beneath keep small items organised. The elegant chest features a mirror inside the lid.
Glass jewellery boxes:
Glass jewellery boxes are less common but are absolutely stunning.
Andean Reverse Painted Glass Jewellery Box with Mirror, 'Eternal Flowers' for example is made by artist Asunta Pelaez in Peru. Luxurious buds and blossoms cover this classic jewellery box, designed like a chest of drawers. The underside of the lid features a mirror, and the two drawers below organise personal treasures. The beautiful motifs are painted by hand on the reverse side of glass panes. This can also be found on http://jewelry-boxes.novica.com/
Brass jewelry boxes:
Brass boxes have also been around since ancient times. Brasswork can be combined with wood and other materials as well as being all-brass.
This Repousse Brass Jewellery Box, 'Fruit of the Vine' by Khalid Ali is handcrafted of mango wood, and covered in embossed brass bathed in nickel. Ali lines the box with velvet, adds a compartment for rings, a mirror in the lid, and a latch that can be locked. (Source: http://jewelry-boxes.novica.com/)
Fabric-lined jewellery storage boxes:
Cotton or polyester jewellery boxes are also an attractive option. These are generally not compartmentalised but are great for single pieces of jewellery. Because of their soft lining, jewellery is preserved very well, and they are usually made to look very appealing. Some are combined with glass or tile work, etc.
Here, mixing stone dust with oils, the creator, Amita, paints a lavish composition on a jewellery box that celebrates India's artistic legacy. Covered and lined with a shiny cotton blend in ruby red and gold, the wooden jewellery box is crafted by hand. (Source: http://jewelry-boxes.novica.com/)
Celadon jewellery boxes:
This Fair Trade Thai Painted Celadon Ceramic Round Jewellery Box, 'Thai Temptation', is also available at http://jewelry-boxes.novica.com/ (at time of print). Celadron allows for beautiful artistic impression, but again these boxes come mostly in smaller pieces, although not always so.
Women are not only fascinated with beautiful jewellery, they are fascinated with beauty of all forms. Beautiful jewellery is befitting of beautiful storage. So, why not consider stocking some jewellery storage boxes at your jewellery retail store, selling these online, or offering customers the option of ordering these for them for gifting along with jewellery?