Jewellery For Men – No Really?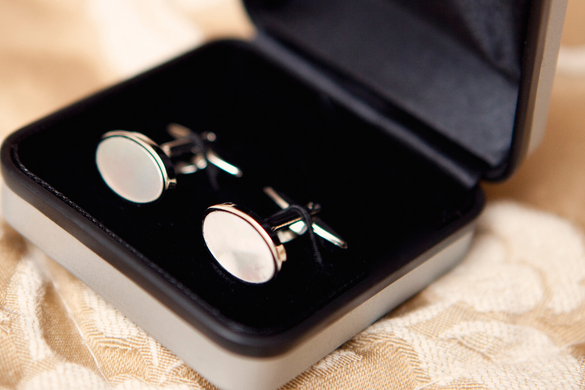 Quietly but steadily, men's jewellery is moving into the mainstream….
Traditionally, the average man has not flaunted too much in the way of jewelry, keeping things more conservative with a watch, a ring from his class, and / or a wedding band if married. Earrings (one, two is passé) were once viewed as sign of rebellion and gold or platinum chains were reserved for the music scene. Those days have come and gone and modern times have brought in an appreciation for male jewellery including pendants, rings and bracelets.
And since more men now adorn themselves with accessories, it is important to know that you are making the intended statement with your various man-baubles. Keep in mind whether you are accessorizing for a formal function or a more casual situation. Different occasions prompt different ways to wear adornments and you want to remain tasteful and fashionable in your selections, and not strike a discordant note. Here are some helpful tips on trends in men's jewellery.
Earrings – Most modern men are piercing both ears rather than just the one ear trend that was previously popular. Diamond studs still remain a popular option, but since a larger stone is more fashionable than a smaller one, there are plenty of cubic zirconium options that look tasteful. Studs in silver, stainless steel and titanium remain widely popular as well. Hoops should be small and snug the earlobes to avoid your looking like a pirate, and there are modern styles made from titanium in a variety of colours. Gauged earrings were once reserved for the more punk rock look, but are increasingly gaining popular with various types of men. Gauging one's ear involves a tremendous amount of patience, using a cylindrical earring to stretch the pierce opening over time. The Gauge earring can be of stainless steel, semi-precious stones, bone, or even glass.
Necklaces – Pendants are a stable popular item to adorn the neck. A leather or hemp rope necklace with a stone pendant has an earthy look, while a platinum or gold chain and pendant carries an urban look and feel. Black or brown leather with a bold chunky silver pendant is contemporary and artistic. Dog Tags remain a popular look and are usually made of stainless steel or titanium. The skull and cross craze seems to be fading, but other elements of "biker" jewellery should stay such as silver necklaces with onyx, turquoise, and amber – masculine and tough without being obnoxious.
Rings – No longer just for the married, rings have grown in great popularity for accessorizing the hands. Unless it is an actual wedding band, there are no set rules for which hand or finger you adorn. Pinky rings in general are pretty tacky and do not make the right fashion statement. Some men have taken the popularity of rings to an unartistic level by wearing multiple rings on both hands. Simplicity is important in wearing a ring fashionably. Select a key piece to display on a middle finger, whether it is thick band or one with a cool stone set into it. You don't have to limit yourself to a diamond. Many men overlook wearing a ring with an attractive masculine stone such as Onyx, Turquoise, or Amber set into silver. Titanium and stainless steel are popular materials for putting a twist on a simple classic band.
Bracelets – Bracelets have increasingly become popular in men's fashion accessories. No longer is the gold chain link style the standard. Today's bracelets are fabricated from a variety of materials from steel, titanium, silver, rope and leather. A handsome leather band is rugged and manly, where a rope bracelet with wooden beads or stones may demonstrate the more artistic side of a man. Layering bracelets can also look fashionable by wearing ones made from similar materials but in a mixture of weight and width. Link bracelets are always a favourite and modern styles are made from stainless steel and titanium, sometimes with a leather or gemstone mix. Copper and magnetic bracelets serve two purposes, adornment as well as taking care of those aches and pains in the wrists and hands.
Watches – The watch has gone beyond being simply a practical device that keeps time. Watches have become a centerpiece for men's accessories and men are seeking out everything from designer labels and sometimes watches, even diamond studded ones. This is where a watch becomes less than a timekeeper and more of a piece of jewellery. Whichever style you choose, designer or sporty, the face of the watch should reflect your personality. A small, delicate watch face is an outdated look. Investing in a great watch is important; as you can be sure everyone will be checking out which designer you are sporting.
Cufflinks – A traditional staple in men's accessories, cufflinks can vary from simple to extravagant. They can be worn every day to work or just for formal occasions, such as a wedding. Cufflinks are a simple accessory that can make a bold statement. Cufflinks vary in style and can be designed with fabric, semi-precious stones, carbon fiber, diamonds, silver, platinum or gold. There is a style and price for every taste and budget. The cufflink just may be the closest thing for a man in wearing his heart on his sleeve, so be selective about what your heart desires to say.
MEN ON THE MOVE
Men's attitudes to jewellery are on the move. After perhaps 200 years (at least in the West) of confinement to cufflinks, tiepins and timepieces, they are experimenting with the kind of adornment hitherto regarded as exclusively feminine. Theo Fennell, a London designer whose £3,000 skull rings are much loved by rock stars, has a new line of men's rings called Heroes and Villains—sculpted silver knuckledusters bearing the disconcerting likeness of, among others, Gandhi, Lincoln, Lenin and Mao. A quarter of Tresor Paris's range of USD 200 beaded friendship bracelets, studded with "Czech crystals", are designed for men; in just a year, this new British company has found a home in roughly 1,000 outlets. The Goldsmiths' Company, which has been responsible for hallmarking precious metals in London since the 14th century, reports an upsurge of interest in "men's brooches": the pictures in its current brochure show city lapels adorned with architectural chunks of gold and palladium by the likes of Vicki Ambery-Smith and Barbara Christie.
In Rajasthan, a man wearing more than a kilo of jewellery goes unnoticed, so there is definitely a cultural connection there. Many tribal males in remote corners of India adorn themselves ( or used to ) with pieces of ornamentation made from materials they could easily find, such as bone, honed wood, ivory, animal horns, etc; this pattern is common across all continents amongst peoples who traditionally live by hunting and gathering rather than by agriculture (farming and pasturing).
It's a business that's worth a lot. According to the market researchers Euromonitor, in 2005 British men bought £136m-worth of luxury jewellery; by 2010, despite the recession, this had gone up to £168m. The greatest increase was not in safely conservative watches, either, but bracelets and—yes, Hugh—necklaces. Laura McCreddie, the editor of Retail Jewellery magazine, claims that this is one of the most noticeable trends of the past few years; it has now reached a point where "star designers like Tomasz Donocik start out making men's jewellery, and only afterwards move into women's—rather than the other way round, as always used to be the case."
Figures for male jewellery in India vary wildly, since most of the business is in the unorganized sector. A rough guesstimate would place this figure at about 1000 crores annually, perhaps growing at a compounded rate of about 30 % per year.
Male hero figures have experimented with jewellery for years. The England cricketer Derek Pringle wore an earring as long ago as 1982. The Rolling Stones' Keith Richards wears a skull ring that features so prominently on the cover of his autobiography it almost replaces his eye. The book has sold a million copies, which means that picture is lying around in a million homes, subtly altering the atmosphere the way Keith's music once did. There are few more macho figures than the actor Gerard Butler—he of "300", every teenage boy's favourite action movie—yet he has been photographed wearing multiple man bangles. And the dominance of hip hop has put the jewel-encrusted male at the top of the pop ladder for the past two decades. A man in his 20s can't remember a time when male accessories wasn't part of the landscape. It won't be long before Bollywood's handsomes start off with some new styling which might just catch the public's imagination.
I can't be the only man in the world who occasionally wishes he were a woman. Right, guys? I mean, it must be terrific to be a woman. Yes, they get paid less and yes, they get routinely discriminated against, but come on – those lucky ladies get to wear jewellery! Great big bits of jewellery and loads of it, if they want.
It is perfectly possible for a woman to wear a boring outfit and then successfully punch it up with some judiciously chosen costume jewellery. But, unfortunately, this just doesn't work for men. If I am wearing a plain jumper and then slip on an Aztec-inspired necklace made out of shards of multi-coloured plastic, I will look like a fashion geek or a lunatic.
A reasonable follow-up question to ask here is: what is the purpose of jewellery? (maybe this question should have been asked right in the beginning). Often I guess it's used to advertise wealth and status. Rappers festoon themselves with gold chains and ice. Personally, I have no interest in flaunting my wealth: first, it seems a little vulgar and secondly, my bank manager would take issue with me describing my sizeable mortgage debt as wealth. And if I wanted to advertise my status I would simply get a T-shirt printed up that read : "I love jewellery"
So I think the answer is that men need to stick to jewellery that is subtle, or means something. Not necessarily that has been bought for them (although that helps), but definitely has been bought for a reason. A reason other than – this looks nice. Obviously, don't wear too many items at once and never mix silver and gold. Don't wear religious iconography unless you subscribe to the religion. If in doubt, go for simplicity. A plain silver ring will always be better than one with a Celtic pattern.
Now, I have started looking for a leather bracelet with a silver or brass clasp. If the clasp has some coloured stones adorning it, matching with the colour of the strap, I shall certainly pounce on it.