Jewel Thieves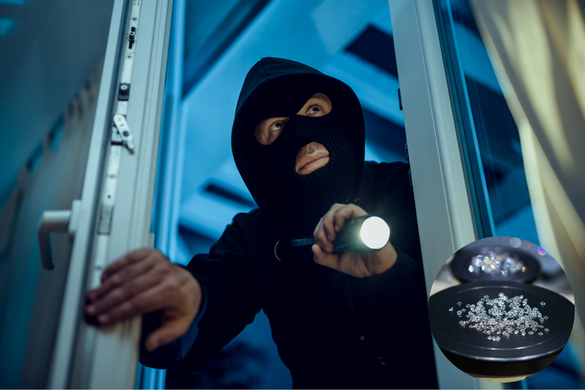 Jewels and diamonds are small, easily transported, and concealed and by virtue of their value and beauty are often either displayed flamboyantly or guarded zealously; that makes them conspicuous and prime targets in a sort of Catch-22 situation.
Through all the examples cited below two things become abundantly clear. First, a successful heist typically requires inside help. And second, while the thieves may be caught, the diamonds are almost never found in international heists while back home the booty is often partially or wholly recovered along with the perpetrators.
Airport Attacks
For diamond thieves, airports seem to be hotbeds of activity. In late 2007 diamonds worth Rs 5 crore were stolen from Mumbai's Chattrapati Shivaji International airport, by casual labourers at the airport. While the loot was recovered by the police, another more recent diamond heist on a Jet Airways flight to Brussels in 2013 remains unsolved. Diamonds worth Rs 3.89 crore simply went missing from a consignment that contained sealed 24 packets of diamonds. The flight's scheduled departure time was 1.55am, but it left only at 5am pointing to 'inside help' in the theft.
Two other thefts at international airports remain in public memory as examples of the thieves' sheer audacity and meticulous planning. The first at Schiphol Airport, Amsterdam in 2005 saw a haul of $118 million (unconfirmed). On Feb 25, thieves wearing stolen KLM uniforms and driving a stolen KLM truck drove right up to a truck carrying rough diamonds intended for a flight to Antwerp. In full public view, the team forced the drivers out of the truck at gunpoint, hopped into the truck and drove away.
In 2013, a gang of eight armed thieves used a similar modus operandi in what was Europe's highest-value airport-tarmac holdup in a decade to steal rough and polished diamonds from Brussels Airport. Authorities didn't detail exactly what was stolen, so estimates of the value of the goods varied from $50 million to $350 million.
The gunmen wearing police uniforms raced up to the plane in cars with flashing lights and stole more than 120 packages of diamonds driving in and out of a hole in the airport's security fence.
In both instances investigators failed to recover the stones or arrest the thieves.
Diamond Districts Beware
If you thought precious cargo in transit was the only kind under threat, think again. Some of the world's most heavily guarded safes have been looted again and again in countries around the world. In 2007 diamonds worth Rs 10 crores were stolen from Mumbai's diamond market in the Panchratna building that houses diamonds worth crores and is surrounded by heavy security. Here too police suspect inside help as there were no signs of forced entry at the main entrance. A more Hollywood-esque heist at the Antwerp Diamond Center in Belgium back in 2003 saw a whopping $100 million haul in a complex crime. The underground vault of the Antwerp Diamond Center building houses 160 safety deposit boxes where diamond brokers leave their stones while brokering deals. 123 vaults were emptied by at least four people who had been planning the theft for years. From renting office space in the building two years ago to analysing the alarm system and learning to bypass it; the thieves left no stone unturned to make this daring heist a success.
The gang was identified as a group known as the School of Turin -- a "brilliant" group of professional thieves and nabbed by Antwerp police in Italy. However, the $100 million worth of loot was never found. The Italian police did discover some of the loot in a vault in Italy but by the time Antwerp authorities arrived to collect the find they were gone -- removed from yet another supposedly secure location.
Back home in 2011 a gang duplicated bank locker keys to carry out a diamond heist worth over Rs. 4 crore from the high-security vaults of the Bank of India's Opera House branch in Mumbai. Unlike the School of Turin thieves, the gang of four was arrested and the loot entirely recovered.
The gang had been operational for three years, stealing diamonds from eight of the 14 lockers they opened with the help of duplicate keys, the police said.
Stores and exhibitions
Stores and exhibitions too have been prime targets for jewel thieves of the literally hundreds of examples two reiterate the fact that jewels are almost never 'totally safe.' August 2010 saw a Rs.6.6 crore diamond theft that took place at the India International Jewellery Show (IIJS) in Mumbai despite a multi-layered security cordon and stringent checks. In this case the Mumbai police tracked the international crew of five perpetrators within 24 hours and retrieved most of the booty.
Back in 1994, the Carlton Hotel in Cannes, France became the target of one of the biggest gem heists ever with a reported $60 million worth of jewels being stolen by armed gunmen. Robbers sprayed machine gun fire and made away with jewels that were never recovered. As police investigated the crime scene, they quickly realized one important detail -- there were no bullet holes in the walls or ceilings. The robbers had been firing blanks.