How to Make Jewellery for a Young Bride on a Budget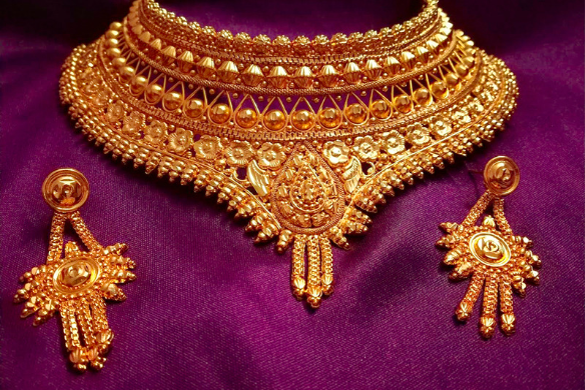 Every woman dreams to be a beautiful bride for her wedding day. Jewellery is a sparkling asset, which further adds to the bridal allure. Indian weddings especially were always traditionally defined by a grandeur and luxurious approach. However, there is a paradigm shift witnessed amidst young couples wanting to marry, and a category has emerged that chooses 'modest' over lavish in every aspect, be it; selection of the venue, the wedding trousseau and most importantly, the choice of 'Bridal Jewellery'. The past preference of buying traditional and bulky gold jewellery, which was synonymous with a traditional Indian wedding has been replaced, with more women being 'aware' and 'practical' in the choices they make. They opt for contemporary, 'wearable' pieces that are delicate yet mesmerising in design. This category is looking for pieces that are stunning in design and workmanship, yet won't erode their parents' bank balances and be too heavy to wear in the future.
This evolution presents jewellers with an integral challenge to design a 'practical' line of affordable jewellery, which complements the personality of this new segment of young brides and can be put to good use beyond the rare special occasion. It's a logical business strategy as well, given the fact that bridal jewellery makes for quite a decent amount of the total business, a jeweller generally does.
Varied Jewellery Options for Brides On a Budget
There are quite a few ways a jewellery manufacturer can create jewellery lines that are affordable. Some of them are:
Using Cheaper Metals in Jewellery Manufacturing:
There are various metals that can be used for manufacturing jewellery, however, it is important to use the right one – the metal should correspond with the requirements of the design. If price is a big factor, one could use a lower karatage of gold, or white gold. One could even use silver and choose to plate the jewellery in gold, or retain the silver look.
Leading Jewelers of the World have launched an interesting concept, of a potential new-age metal comprising of 95.5.% gold, silver, platinum and palladium, priced at almost 1/20th the price of gold. Not only do you get jewellery with a limited budget, you benefit from resale value as well.
Using Light-Weight Jewellery Manufacturing Technologies:
With 3-D and other lightweight jewellery manufacturing technologies, the price can be brought down quite a bit. Far from compromising on design, jewellery made using modern lightweight processes is usually stunning.
Using Semi-Precious Stones or Synthetic Stones for Bridal Jewellery:
If one likes diamonds, lab-grown diamonds are a cheaper option than natural mined diamonds. Moissanites or Swarovski stones are another option. Swarovski has in fact been collaborating with quite a few fine jewellery brands to come out with bridal jewellery lines.
Semi-precious stones make for a good alternative to precious coloured gemstones like rubies, emeralds and sapphires.
Today's young bride is open, flexible and seeking new options. She is not likely to compromise on the quality or design, in her quest for economical jewellery. It is critical for jewellers to constantly create a variety of meaningful designs. In fact, if the young bride is compromising by not using expensive materials, she would all the more want pieces with stunning design and workmanship.
The most adored metal though being gold, can turn out to be very expensive, if it's a 24K or 22K. Where budget is a priority, customising designs in 14K or 18K and combining it with coloured gemstones or other semi-precious stones can go a long way in creating a signature style jewellery piece which looks as magnificent or more than one made in heavy gold.
Gone are the days when heavy jewellery pieces were sought after just for the wedding and then packed away somewhere, forgotten forever. Today, versatility is a priority for the young bride when making choices. Creating pieces of jewellery one can wear beyond a particular occasion in multiple ways with traditional/western wear, will draw immense interest. Not only can such pieces be worn for years after the wedding day, they also address the young bride's need to avail "more bounce for the ounce".
Today's bride is looking for a unique look, and design takes priority over all else. Catering to this segment of young brides who are looking at economical jewellery with a contemporary soul requires a lot of creativity of design, material variables and skillful execution – The segment requires a multi-pronged approach.