How to Build a Jewellery Business Without a Store Front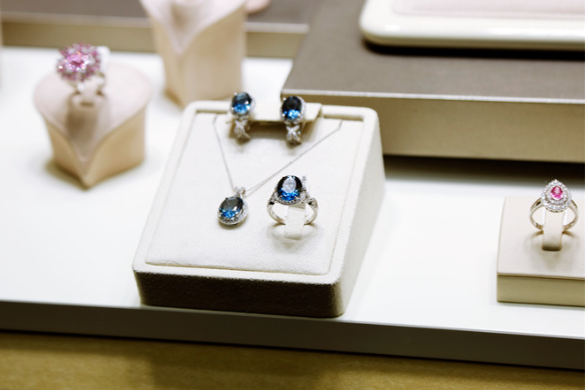 In the present digital day, jewellery makers and everyone else seems to know that they can sell produce without needing a brick-and-mortar store. However, most people are still unsure about how they should go about doing this. Let's take a look at some of the key channels that are available today for jewellery retailing sans a physical store-front – like independent e-commerce stores, third-party e-commerce shopping portals, industry-specific online directories, or just plain word-of-mouth advertising and home set-ups.
Third-Party E-Commerce Portals: There are a number of multi-product and even product-specific e-commerce portals on which sellers can set up stores of their brands or just list a few products. To take www.Etsy.com, as an example, the portal is a creative marketplace mostly for handmade goods, including jewellery. The site currently hosts approximately 1.5 million sellers, and 21 million buyers around the world shop for unique items here. The portal asks for a small listing fee, a transaction fee of 3.5% of the sale price, as well as a small payment-process fee. Most sellers of handmade jewellery find the deal very attractive when compared with the money and hassles involved with having a personal portal, which requires continuous marketing activities.
www.Amazon.com or the India website www.Amazon.in are also very popular for selling all kinds of jewellery. Amazon has a handmade jewellery category under which hundreds of sellers showcase their products. The ability for customers to break down their search under precise product categories on sites such as Amazon, make it easy for sellers to attract the right buyers for specific products. Besides this, popular portals like Amazon score very well in search engine optimisation results, and so selling on them can give a big push to one's business, especially if it is in its nascent stage.
Another portal where one can sell one's handmade jewellery is www.icustommadeit.com. The e-commerce site sells handmade or custom-made products of various categories including clothes, furniture and accessories.
Industry-Specific Online Directories: Some portals act like industry-specific directories. www.jewelspan.com is one such very popular directory of jewellery e-retailer websites. However, directory sites may or may not let retailers post products, and usually just link visitors to third-party sites enlisted with them. Online directories are more of a marketing tool, and listed retailers must have their own e-commerce websites from which they sell their products. Retailers can do a simple search online for jewellery retail directories, and submit their website details and company descriptions to those that appeal to them and thus apply for listings.
Independent E-commerce Stores: Today, thousands of brands have stand-alone e-commerce stores where they sell their jewellery. When one does not have a brick-and-mortar store or an established name, this process is more challenging, because it must be accompanied with appropriate online marketing activities. Besides directory submissions, as mentioned above, one can undertake Search Engine Optimisation activities, Social Media Marketing, Pay-Per-Click Advertising, etc, to drive traffic to one's online store. These methods are cheaper than conventional advertising by a long-shot. Plus, the savings that accrue from staying away from the brick-and-mortar selling-model are considerable and rewards are many because of a global reach.
www.Shopify.com is a popular company that's specifically dedicated to establishing e-commerce portals for jewellery retail. Whether hand-made jewellery or fine jewellery, the services of companies like shopify are of the essence to help establish an e-commerce business from scratch.
www.EsteemDesigns.co which happens to also be listed on jewelspan.com runs an extremely successful on-line jewellery retail store. www.avindy.com is another example of a thriving online retail store of hand-made jewellery, although the company started and run by mother-and-daughter team Avril and Cindy, also does wholesale and retail at a handful of brick-and-mortar stores.
Home Operations and Word-of-Mouth Advertising: Some folk choose to keep their businesses low-key, and both manufacture and retail at home, marketing chiefly through word-of-mouth. A number of fine jewellery designers are known to consult from their residences and then outsource the manufacturing process.
Priyanka Verghese of Pinx Creations makes exquisite limited-edition hand-made jewellery, which she retails at her home at Churchgate, in Mumbai. Besides Pinx Creations' Facebook page, https://www.facebook.com/Pinx-Creations-Handmade-Costume-Jewellery-212530868788727/ word-of-mouth works well for Priyanka's small-scale business. She also periodically holds exhibitions at her residence.
The companies mentioned here are just a few in the vast ocean of options. Whether it's leveraging tools like online shopping portals, setting up one's own e-commerce portal, undertaking Internet marketing activities to push visibility or simply selling on a small scale at home – a store-front is no longer a necessity to build a successful jewellery retail business.