Budget-friendly Precious Jewellery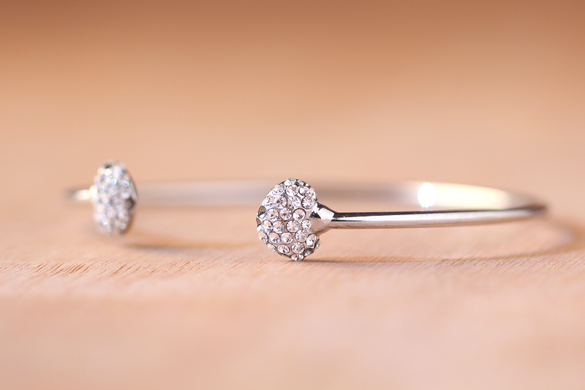 Gemstone slices, diamond and silver jewellery, gold and silver combination, hollow gold jewellery are all options for those looking for quality while avoiding prohibitive prices. We take a look at some options.
Gemstone slices have been making an appearance in haute jewellery of late. Two-dimensional in nature, slices permit light to pass through lending it an ethereal, subdued glow contrasting dramatically with faceted gems cut with mathematical precision. Slices can be cut from commercial grade gemstones and much of the raw material that previously used to be signed off as unusable is finding a showcase with this lapidary technique. Using slices has the distinct advantages of being light and affordable, and the stone usually requires a metal rim along its contours to hold the gem securely thus minimising the metal cost. Designers like Bali-based Natalie Dissel and New Orleans AGTA Member Ashleigh Branstetter have been using gem slices to great aesthetic effect for the past few years.
Rough gems too have found success in unusual jewels imparting a 3D effect and reflecting innovation and 21st century design sensibilities. Award-winning designer Todd Reed from the US has been an original advocate of the gems and won accolades for his rough diamond jewellery that he says showcases the intense colour diamonds have in their raw state.
Diamond-set Silver Jewellery
Diamond-set silver jewellery is not a new phenomenon. Several manufacturers have been into manufacturing this type of jewellery for quite a while now and it forms a separate product category in itself. Apart from the obvious fact of minimising metal costs, such jewellery is also quite versatile and allows for creation of large statement pieces that would have been prohibitively priced if fabricated in gold or platinum.
Gold-silver Combination
Jewellery is fabricated using a combination of sterling silver and 14-karat gold. The process combines the casting process to create the base of the jewel in silver and embellishments in finely worked gold. This technique can be used to create statement pieces as the combination of gold and silver ensures controlled costs and a substantial heft to the jewel. Jaipur-based brand Amrapali, a favourite with Hollywood A-listers is notable as the first Indian jeweller to be included in Harrods Fine Jewellery Room. Celebrated for their association with age-old Indian tribal and traditional designs Amrapali uses this technique to great effect. Their heavy 'rani-haars' (literally queen's necklaces) and embellished earrings are fabricated in combination gold and silver and enjoy much popularity internationally.
Hollow Gold Jewellery
Hollow gold jewellery has been synonymous with Italian craftsmanship, and now India too has followed suit. Hollow jewellery is fabricated by tubing, rolling, pressing, electroforming and drawing techniques. Although mostly used for chains and bracelets, the technique is fast gaining ground in other more intricate jewels. Light in weight and affordability are its two main USPs. Several manufacturers in India and abroad specialise in this kind of jewellery and their products can be found with retailers pan-India.